How I can access Linux with Chrome OS Flex
⚠️ This entry is already over one year old. It may no longer be up to date. Opinions may have changed.
I recently installed CloudReady on my ThinkPad. Unfortunately, the Linux feature is not available there because microcode updates are missing, there is no BIOS update and Crostini is quite strict about security.
Since this does not work as I first thought, I have now directly installed the new Chrome OS Flex, which is basically CloudReady 2.0 and is also called so in the system in one or another place.
Just for fun, I searched for "SSH" in the Chrome Web Store and actually found a pretty useful extension for SSH, which should even support SFTP and Mosh (but I have not tried). So now I can access my home server running Ubuntu from the home network. Furthermore, I can also access my VPS from this home server via Tailscale and SSH.
But how do I now access Linux apps using Chrome OS Flex?
VNC can be used for this purpose. The Ubuntu version running on the home server is not the server Ubuntu, but a desktop Ubuntu, after all, the computer is also connected to my TV, through which I could then watch DVDs, for example.
On Ubuntu I can start TigerVNC (I also made some notes about TigerVNC in my wiki). Since you need a client for VNC, but I couldn't find anything for Chrome OS, I need a solution that can run directly in the browser: noVNC. noVNC is a server-side VNC client that uses Websockets to stream the result to the web browser. I was able to install noVNC as a snap package.
So I can now use my ThinkPad as a "thin client" and still use a more full-featured Linux, only now the battery lasts a little longer and also the laptop fans stay completely silent.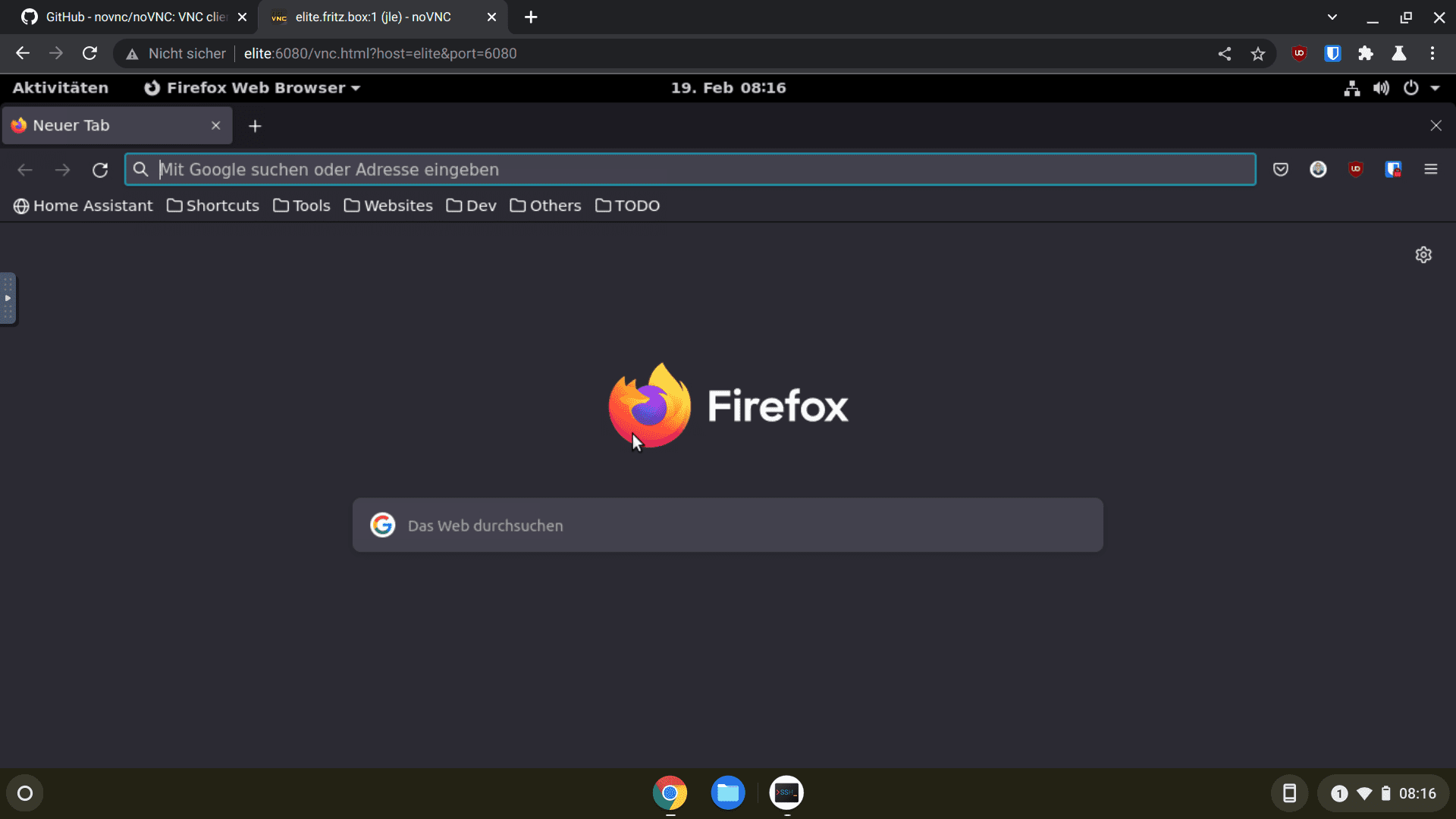 Tags: Chrome OS Flex