Retrospective of my home office tech investments
⚠️ This entry is already over one year old. It may no longer be up to date. Opinions may have changed.
Last year, when suddenly it was said that home office is the new normal, I started to update or improve my home tech equipment. In January, I shared a picture of my home office.
And I have to say, I'm pretty satisfied by now!
One of the first things I addressed was switching to wireless input peripherals. This included installing a WiFi and Bluetooth card in my desktop PC on the one hand, and finding a good mouse and keyboard on the other hand.
The card for WiFi and Bluetooth is a M.2 2230 card with the Intel AX200NGW chip. It was easily installed in my ASRock DeskMini A300 and has been working without any problems ever since. If my router supported WiFi 6, I could use that. But the card also supports Bluetooth 5.0, which works extremely reliably. I used to have problems with an older USB Bluetooth dongle, but this card and a pair of antennas, for just over 30€ have been absolutely worth it.
Once the connectivity problem on the computer side was solved, it was time to look for the appropriate peripherals. I like it plain and simple, so, excited by the design, I first went for the keyboard-mouse combination "Microsoft Designer Bluetooth Desktop" and "Microsoft Modern Mouse" (which also made me switch back to Ubuntu again).
That was OK so far, I was excited about the wirelessness and the feeling of typing like on a laptop keyboard. However, when I had to work with my work laptop at home as well, that was when I realized that it was not possible to use this keyboard and mouse with two different computers. Temporarily, I got a second wireless mouse and keyboard, a very inexpensive model from Logitech, on which the typing feel was not so good either.
At some point, I came across Logitech's premium productivity devices by accident and was instantly in love with them. The MX Keys as a keyboard, with the MX Master 3 as a mouse. Both can be connected to up to 3 devices in parallel and easily switch between them. In addition, the keyboard offers key lighting. That has actually already convinced me.
Positive in the experience was then also that the connection of the devices with all computers with which I have used them so far, via Bluetooth works very well. Quickly connected, even after not touching the computer for some time. The typing feel is really very good and the mouse also knows how to convince with its horizontal scroll wheel and fast scroll mode.
The price is a thing, but I didn't regret the purchase for a second.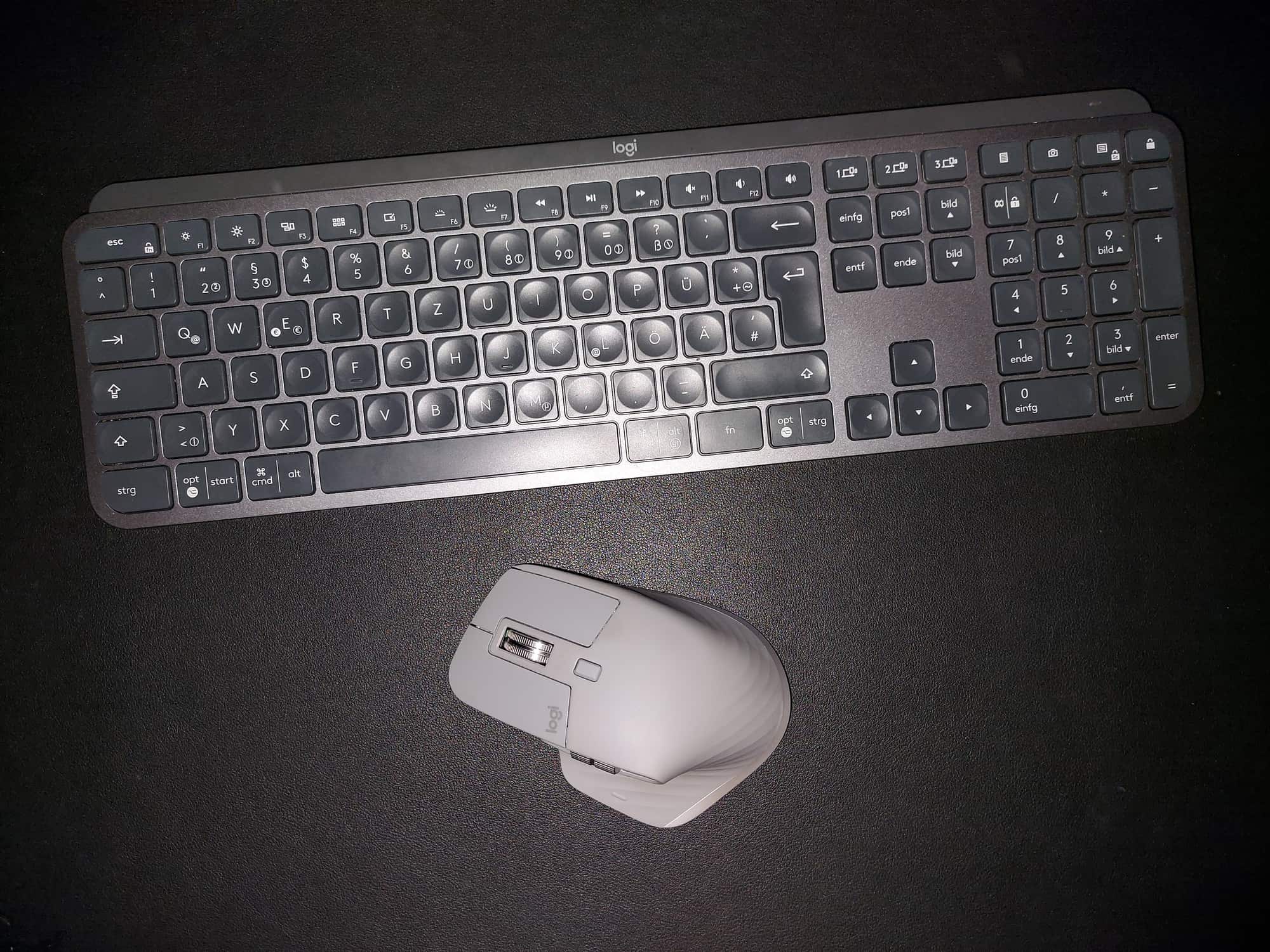 Last April, due to many people switching to home offices, it was difficult to find home office equipment that wasn't sold out. Since I often have to make phone calls while studying and also while working, and I myself find poor audio quality from other people rather annoying, I also bought myself a microphone that is better than the microphones on various Bluetooth or USB headsets (and Bluetooth headset microphones somehow don't really work on Linux). For 40€ the FIFINE USB microphone does a good job, I can't complain. Now the audio quality usually suffers more from the compression algorithms of various video calling tools. And especially when I make calls from a VDI desktop via VMWare Horizon…
I also bought a webcam at some point, which also has a pretty good picture, but I don't really use it very often. Somehow it has become the norm in my circles to do without video most of the time.
At the end of October, I made the next major investment: a new monitor! Previously, I used a 24-inch monitor with 1080 pixels height. That was actually quite okay and if here in the apartment another monitor is needed or I want to work from somewhere else, then it is still used. But the 28-inch Samsung U28R552UQU not only gives me 4 inches more screen real estate, it also allows me to finally watch videos in 4K.
Why the extra 4 inches are important to me? I prefer to work with only one monitor, even if I have to switch back and forth between different windows sometimes. But I often split the screen in the middle as well. With two monitors, my inner monk often grumbles if the display settings are not exactly the same or the monitor is not set to exactly the same height. Two different resolutions would probably trigger me as well. Only for work I have the work laptop open next to the monitor. There I usually have windows for phone and email open.
The monitor is a rather cheap model, but it has an IPS panel, which was important to me. Overall, I quite like it and have nothing to complain about. With a little tinkering, it was also possible to screw my computer on the back again via the VESA mount and have a bit more free space on the desk.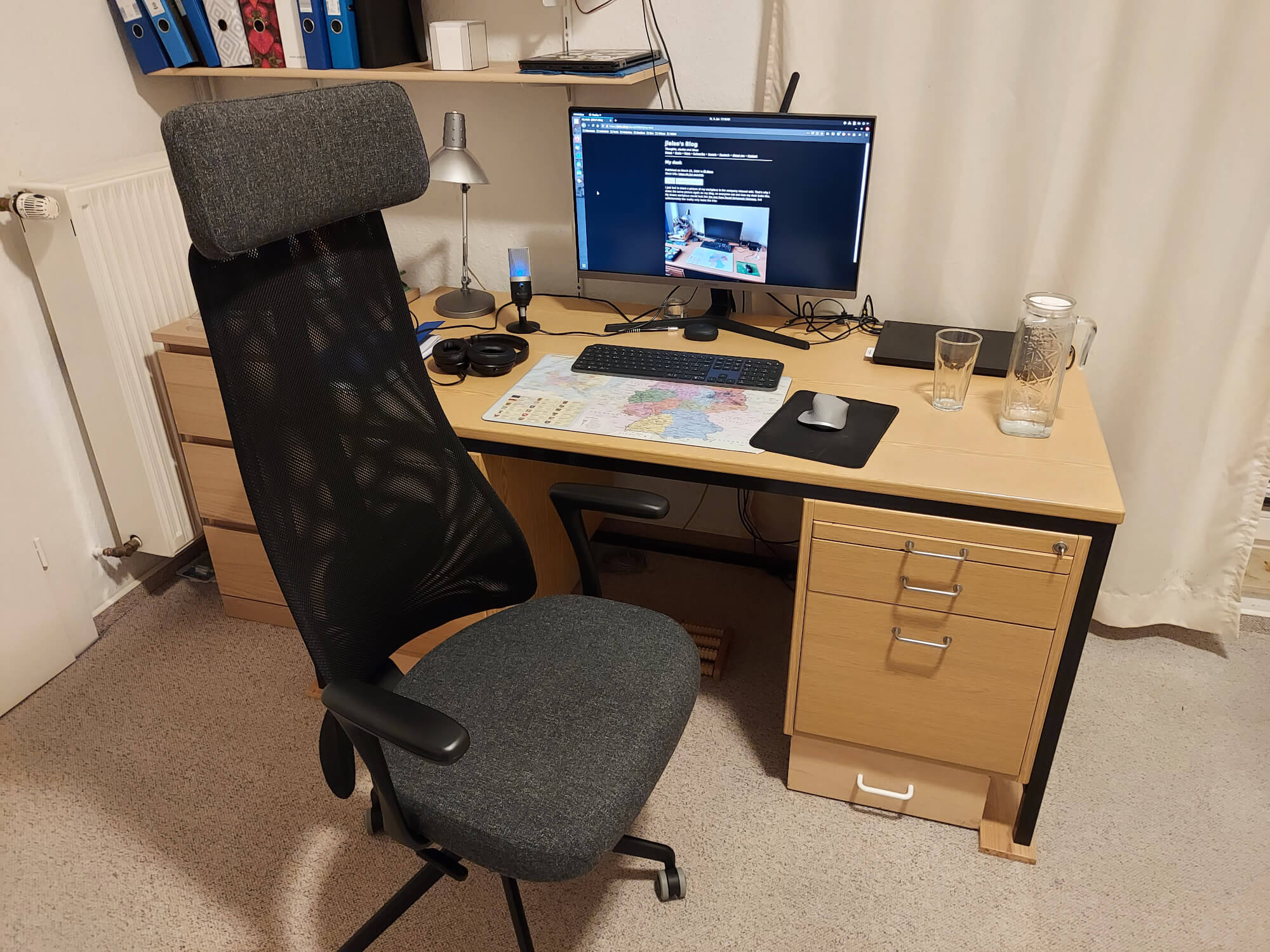 Since my monitor doesn't have built-in speakers, I got an audio cable and connected the monitor to my stereo system, which I got as a gift in my childhood years. It sounds much better than built-in speakers too!
Those were the major technology purchases for my home office last year. I'm glad that I got a tax-free Corona bonus, which gives me back the expenses that way. I didn't mention my headphones, which I use not only in the home office, but also most of the time with my smartphone. I also bought that last year, and I'm very happy with it.
In general, I'm happy to be in the very privileged position of being able to work from home and then also have so much space and a mostly quiet environment, many don't have this luxury.
But in order not to let my ecological footprint increase even more due to all the new technology (my predominantly vegetarian diet doesn't help much then either), I won't be buying any more new technology for the time being. And why should I? I am already very satisfied!
Tags: Hardware, Home Office, Technology