Two years with my Surface Go
⚠️ This entry is already over one year old. It may no longer be up to date. Opinions may have changed.
The daily look into my OneDrive app showed me a photograph this morning: Of my Microsoft Surface Go with its accessories. Because two years ago today, I received and set up this device on which I'm typing this text right now. So for two years now, the Surface Go has been with me in my everyday life, taking on the role that my laptop had before.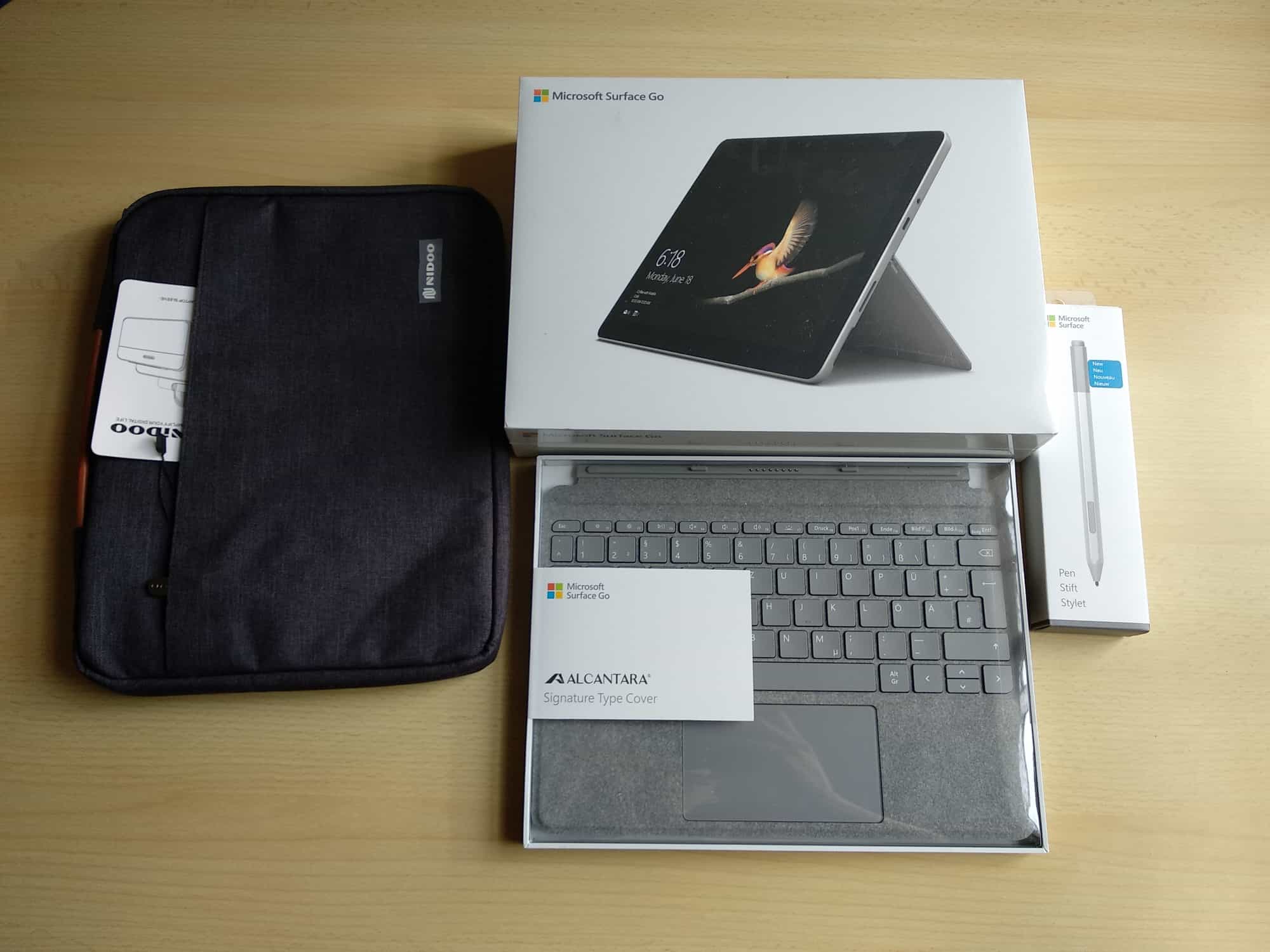 I've already blogged quite a bit about the Surface Go, but after two years it might be interesting to take a look at a longer period of use. In most technology reviews, the devices are often not tested for a long time. But only when you really use a device for a long time and in everyday life, you get a better feel for it. And this feeling tells me that the Surface Go was definitely a good purchase decision.
I originally bought it to be able to take better notes during lectures. I researched various tablets. An iPad was out of the question for me due to the golden Apple cage, Android tablets are also kind of limited and usually not the silver bullet, but the Surface Go runs a normal Windows 10 and it is therefore the most flexible in terms of software, since you do not have to rely on an app store.
Most of the time, I don't use the Surface Go as a tablet, but rather as a small and flexible notebook. It is light, small, handy and thin. It was easy to use during lectures because it didn't take up much space on the small tables. And it's also easy to type on the keyboard.
However, I couldn't use my Surface much for university stuff. For one thing, some professors required me to take notes on paper, and for another, my fifth semester took place in my home office, where I then had my normal desktop computer at my disposal.
But for things that I used to use my notebook for, I now use the Surface most of the time. For example, when I don't want to do some research at my desk, watch videos or blog. Or when I visit my family on the weekend.
At times I have taken my notebook and my Surface with me, but lately it's just the Surface. Thanks to using a code server or WSL2, I can also program or "try things out" from the Surface Go just fine.
The power of the Surface Go is indeed limited, but I can't agree with comments I've read on leaks of the now soon to follow Surface Go 3 that the Surface Go is unusable due to its slow processor. I have the version with 8 GB of RAM instead of 4 GB. This offers real SSD storage, but uses the same processor. The successor, the Surface Go 2, has two different processor configurations. The performance is sufficient for normal activities like surfing the Internet, writing emails or editing one or the other document. Yes, you can even do some programming if you want to. It's not particularly fast, but Java development environments can be used without problems.
The battery lasts a long time. Right now, as I'm just typing this, my Surface has a battery level of 66 percent and shows a remaining runtime of over four and a half hours.
I'm convinced that the choice of a Windows tablet was the right one, because updates are still coming and probably will be for quite a while. And if necessary, Windows or Linux can be run on the device without restrictions. With Android tablets, you have to hope for a good update policy from the manufacturer, but I wouldn't have much hope for updates after two years. Apple does provide updates for the iPads for longer, but if the support ends at some point, then browsing using the iPad is no longer really safe.
The price of Microsoft's Surface devices is not exactly low, especially when you compare the performance of the devices to the price. But in my experience, you get pretty good devices for that. Apple is said to be good at combining software and hardware. Microsoft may not be as good as Apple, but it is far better than other notebook and tablet manufacturers.
Tags: Review, Surface Go